Meet Kelvin & Cathy
The Cheese Barn, owned and operated by Kelvin and Cathy Haigh has been a local family business for over twenty years. Kelvin is the principle cheese-maker and Cathy manages the cheese side of the business. They have a small and dedicated team who assist them in making, packaging and labeling the cheese. The cafe is open 7 days a week and they have a great team of staff who are trained baristas.
Happy Cows Make Better Cheese
We believe in keeping things as simple and natural as possible. Thus we are a certified organic factory through BioGro and don't use any artificial additives, antibiotics, growth hormones or chemical sprays in our products. Our products are unhomogenised, gluten free, and have no GMO.
We get our milk from a Certified Organic local family farm that takes great pride in providing a product that is safe for their customers and the environment. The farm, which has been in the family since 1972, operates a grass-based system and the team make hay and silage each year. The cows are not fed grains which makes all our products suitable for people on the Paleo diet. Calving is in the springtime and each calf is assigned not only a number but a name as well. The bulls used at mating time, are kept on the farm year-round. And yes…the bulls have names too!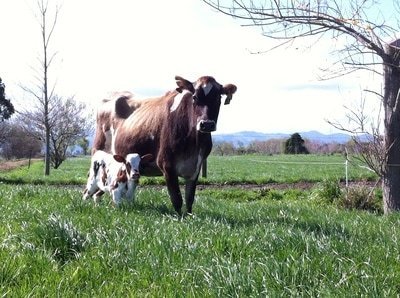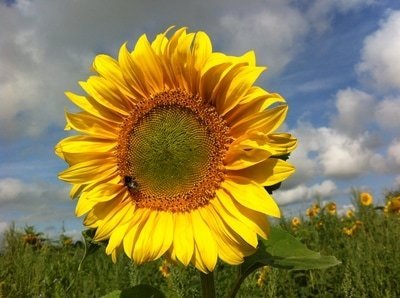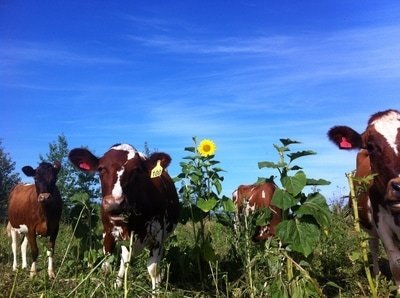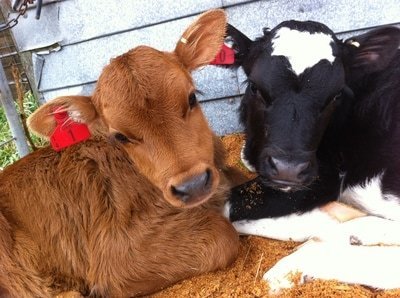 Award-Winning Cheese
We are members of the New Zealand Specialist Cheese Makers Association. We have won several awards in their annual Champions of Cheese Awards competition. 
2021
Gold Medal for Organic Brie from the New Zealand Cheese Awards, 2021
Silver Medal for Organic Kefir Yoghurt from the New Zealand Cheese Awards, 2021
Silver Medal for Organic Quark from the New Zealand Cheese Awards, 2021
Silver Medal for Organic Cottage Cheese from the New Zealand Cheese Awards, 2021
Bronze Medal for Organic Kallarney Blue from the New Zealand Cheese Awards 2021
Bronze Medal for Organic Cumin Seed Gouda from the New Zealand Cheese Awards, 2021
Bronze Medal for Organic Garlic & Chives Gouda from the New Zealand Cheese Awards, 2021
Bronze Medal for Organic Gouda from the New Zealand Cheese Awards, 2021
2020
Silver Medal for Organic Greek Yoghurt from the New Zealand Cheese Awards, 2020
Bronze Medal for Organic Cumin Seed Gouda from the New Zealand Cheese Awards, 2020
Bronze Medal for Organic Garlic & Chives Gouda from the New Zealand Cheese Awards, 2020
Bronze Medal for Organic Gouda from the New Zealand Cheese Awards, 2020
2019
Gold Medal for Organic Garlic & Chives Gouda from the New Zealand Cheese Awards, 2019
Silver Medal for Organic Gouda from the New Zealand Cheese Awards, 2019
Silver Medal for Organic Cumin Seed Gouda from the New Zealand Cheese Awards, 2019
Silver Medal for Organic Cottage Cheese from the New Zealand Cheese Awards, 2019
2018
Champion of Champions Award for Cumin Seed Gouda from the New Zealand Cheese Awards, 2018
Gold Medal for Organic Cumin Seed Gouda from the New Zealand Cheese Awards, 2018
Bronze Medal for Organic Gouda from the New Zealand Cheese Awards, 2018
2017
Gold Medal for Organic Mozzarella from the New Zealand Cheese Awards, 2017
Silver Medal for Organic Cumin Seed Gouda from the New Zealand Cheese Awards, 2017
Silver Medal for Organic Camembert from the New Zealand Cheese Awards, 2017
Bronze Medal for Organic Garlic & Chive Gouda from the New Zealand Cheese Awards, 2017
View our Previous Year Awards
2016
Gold Medal for Organic Gouda from the New Zealand Cheese Awards, 2016
Gold Medal for Matatoki Mountain Cheese from the New Zealand Cheese Awards, 2016
Gold Medal for Edam from the New Zealand Cheese Awards, 2016
Bronze Medal for Organic Cumin Gouda from the New Zealand Cheese Awards, 2016
Bronze Medal for Organic Cumin Seed Gouda from the New Zealand Cheese Awards, 2016
2015
Gold Medal for Organic Gouda from the New Zealand Cheese Awards, 2015
Silver Medal for Organic Gouda from the New Zealand Cheese Awards, 2015
Silver Medal for Mountain Cheese from the New Zealand Cheese Awards, 2015
2014
Gold Medal for Organic Gouda from the New Zealand Cheese Awards, 2014
Bronze Medal for Organic Camembert from the New Zealand Cheese Awards, 2014
Bronze Medal for Kallarney Blue from the New Zealand Cheese Awards, 2014
​2013
Gold Medal for Old Gouda from the New Zealand Cheese Awards, 2013
2011
Gold Medal for Sheep Gouda Champion Export Cheese from the New Zealand Cheese Awards, 2011
Gold Medal for Sheep Gouda Dutch Style Cheese from the New Zealand Cheese Awards, 2011
Silver Medal for Cumin Seed Gouda from the New Zealand Cheese Awards, 2011
2010
Gold Medal for Organic Cumin Gouda from the New Zealand Cheese Awards, 2010
Gold Medal for Old Golden Gouda from the New Zealand Cheese Awards, 2010
Gold Medal for Garlic & Chives Gouda from the New Zealand Cheese Awards, 2010
Silver Medal for Pecorino from the New Zealand Cheese Awards, 2010
Silver Medal for Camembert from the New Zealand Cheese Awards, 2010
Bronze Medal for Golden Gouda from the New Zealand Cheese Awards, 2010
Bronze Medal for Sheep Milk Gouda from the New Zealand Cheese Awards, 2010
Bronze Medal for Ewes Milk Feta from the New Zealand Cheese Awards, 2010
Silver Medal Roll of Honour for Innovative Packaging Champion Soft White Rind Cheese: Camembert from the New Zealand Cheese Awards, 2010
Silver Medal Roll of Honour for NZSCA Champion Sheep Cheese: Pecorino from the New Zealand Cheese Awards, 2010
Silver Medal Roll of Honour for NZSCA Champion Export Cheese: Pecorino from the New Zealand Cheese Awards, 2010
Bronze Medal Roll of Honour for Ewes Milk Feta from the New Zealand Cheese Awards, 2010
Bronze Medal Roll of Honour for Sheep Milk Camembert from the New Zealand Cheese Awards, 2010
Bronze Medal Roll of Honour for Golden Gouda from the New Zealand Cheese Awards, 2010
Bronze Medal Roll of Honour for Smoked Ewes Milk Gouda from the New Zealand Cheese Awards, 2010
Bronze Medal Roll of Honour for Smoked Mozzarella from the New Zealand Cheese Awards, 2010
Bronze Medal Roll of Honour for Sheep Milk Gouda from the New Zealand Cheese Awards, 2010
2009
Gold Medal for Ewe Gouda from the New Zealand Cheese Awards, 2009
Silver Medal for Coromandel Blue from the New Zealand Cheese Awards, 2009
2004
Gold Medal for Vintage Cumin Seed Gouda from the New Zealand Cheese Awards, 2004
Silver Medal for O'l Port Jackson from the New Zealand Cheese Awards, 2004
Bronze Medal for Halloumi with Mint from the New Zealand Cheese Awards, 2004
Bronze Medal for Vintage Ewes Milk Gouda from the New Zealand Cheese Awards, 2004
Bronze Medal for Smokey Joe from the New Zealand Cheese Awards, 2004
Bronze Medal for Coromandel Blue Ewes Milk from the New Zealand Cheese Awards, 2004
Bronze Medal for Aged Dutch Style Cheddar from the New Zealand Cheese Awards, 2004
2003
Gold Medal for Golden Gouda Vintage from the New Zealand Cheese Awards, 2003
Bronze Medal for Feta with Rosemary from the New Zealand Cheese Show & Awards, 2003
Bronze Medal for Halloumi from the New Zealand Cheese Awards, 2003
Bronze Medal for Fresh Mozzarella logs from the New Zealand Cheese Awards, 2003
​2002
Bronze Medal for Maasdam from the New Zealand Cheese Awards, 2002
2000
Gold Medal for Ewe's Gouda from the New Zealand Cheese Show & Awards, 2000
​1999
Silver Medal for Quark from the New Zealand Cheese Show & Awards, 1999
1998
Silver Medal for Feta with Rosemary from the New Zealand Cheese Show & Awards, 1998
Bronze Medal for Sheep Feta from the New Zealand Cheese Show & Awards 1998